Neva Dun Farm Christmas Trees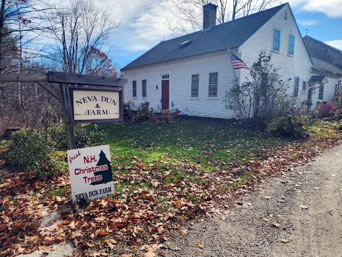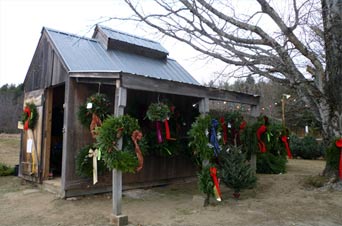 77 Peacham Road,
Ctr. Barnstead NH 03225
(603) 776-7000 anytime
Cut Your Own Organically Grown Balsam, Fraser or Fralsam Fir

Fresh Cut NH Balsam or Fraser Fir

Wreaths, Plain and Decorated, 16" - 60"
Kissing Balls, Centerpieces and Garland

Natural Gifts - Alpaca Products and other Natural Gifts

Open Fri - Sun, 9-5
Opening date: Day after Thanksgiving
Neva Dun Farm Christmas Trees is a small, family run tree farm just off Route 28 in Barnstead, NH (signs)- easy driving distance from Manchester, Concord, Laconia and Rochester. We have gained a reputation for quality trees and wreaths at a fair price, in the last thirty years.
Cut Your Own hand sheared and organically grown Balsam Fir, Fraser Fir and Fralsam Fir on our beautiful plantation or choose a Fresh NH Fraser or Balsam Fir from our Retail Lot. We provide full service including Tree Wrapping.
Bring the Whole family and start a Holiday Tradition! Enjoy the mountain and pond views, a sled ride for the kids, x-country skiing and refreshments. We have Alpaca Products and other natural gifts in our Gift Shop.
Open Fri - Sun, 9 am - 5 pm. Note: Cut your own: 9 am - 4 pm.
Happy Holidays! Ken and Sandy Burt.
nevadunfarm@metrocast.net